You already have this item in your cart!
Class: Make the Canterbury Shaker Side Table with Will Myers (4 Days)
CLASS LENGTH: 4 Days
CLASS DESCRIPTION: Will Myers will guide you through building a replica of this cherry shaker side table from the Canterbury shaker community. In this class you'll learn the basics of building a simple table with a drawer, including tapering legs, chopping mortises, cutting tenons, making & fitting drawers, hand plane work, hand saw work, chisel work, and much more. See below for class details.
WAIT LIST: If the class becomes sold out, click here to get added to the wait list. People may cancel, we may add more slots, or we may decide to add another class date.
PAYMENT: If you would like to pay for a class using a different method than online with a credit card, email us here to arrange to pay by check or cash. We don't accept credit cards over the phone.
Description
This table is a copy of an original Shaker piece that originated from Canterbury Shaker village in New Hampshire. The finely tapered legs of this table create a light and delicate look that is actually quite strong. The size of this table makes for an excellent end table for living spaces or as a bedside table. We will be building these tables from American cherry and white pine. In this class we will discuss how the original table was constructed and also its original use (it has a secret!). We will also cover how to layout and cut mortise and tenons joints, how to taper the legs using hand planes and nailed drawer joinery as per the original.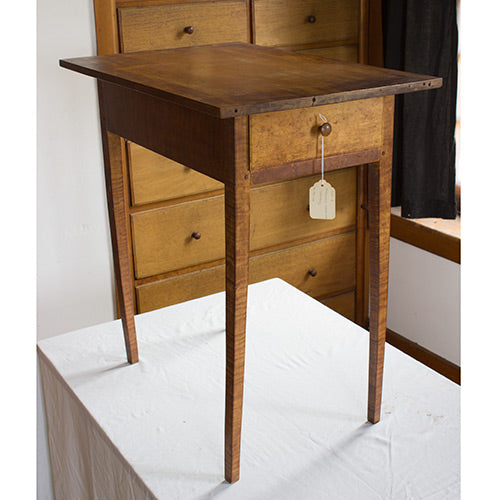 About the Instructor: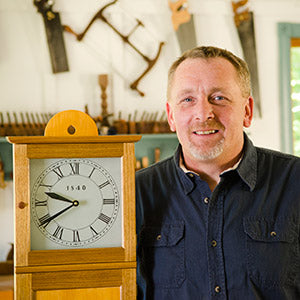 Will Myers is an expert furniture maker from North Carolina, who specializes in building reproduction furniture with historical hand tools. Will is featured in the best-selling DVD "Building the Portable Moravian Workbench with Will Myers" and on the PBS TV show "The Woodwright's Shop". He also teaches woodworking classes at Roy Underhill's "Woodwright's School".
Materials Fee:
The material fee for this class is $125, and is payable to the instructor before or on the day of the class.
How to Get Here & Where to Stay:
The address of the school is 5700 Buffalo River Rd. Earlysville, Virginia 22936 (Google Maps here). The school is convenient to quite a few hotels, stores, and restaurants, and is only 8 minutes from the Charlottesville airport. Many more details are listed on the school's main page here.
Class Policies, Liability Waiver, & Cancellations:
A PDF document with the full class policies and a liability waiver will be sent in the order confirmation email. All students are required to sign and return this document prior to attending the class. Anyone can cancel a class up to 2 weeks prior to the class for a full refund (minus a $25 fee that covers credit card processing fees and administrative work). Cancellations under two weeks before a class begins will be given a refund (less $25) if we can find someone else to fill the slot. If we have to cancel a class for an unforeseen emergency, inclement weather, or low number of registrations, a full refund will be given to students.
Additional information
| | |
| --- | --- |
| Select a Date | Mon-Thur Sep 16-19, 2019 |