You already have this item in your cart!
Class: Carving Wooden Spoons with Mike Cundall (2 Days)
CLASS LENGTH: 2 Days
CLASS DESCRIPTION: Join Mike Cundall for a class on carving wooden spoons. Students will learn how to turn branches & blanks into spoons & spreaders (for butter or jam) that they can use at home or give as gifts! The class will cover blank prep, axe, and knife use/safety, and how to design wooden spoons with the user in mind. Students will leave with a knowledge of how to work the raw materials to a roughed state, and then be guided on how to "finish" carve the wooden spoons and apply a suitable finish. See below for class details.
WAIT LIST: If the class becomes sold out, click here to get added to the wait list. People may cancel, we may add more slots, or we may decide to add another class date.
PAYMENT: If you would like to pay for a class using a different method than online with a credit card, email us here to arrange to pay by check or cash. We don't accept credit cards over the phone.
Description
In this two day class students will learn the fundamentals of carving wooden spoons. They ill turn branches & blanks into at least one wooden spoon and spreader.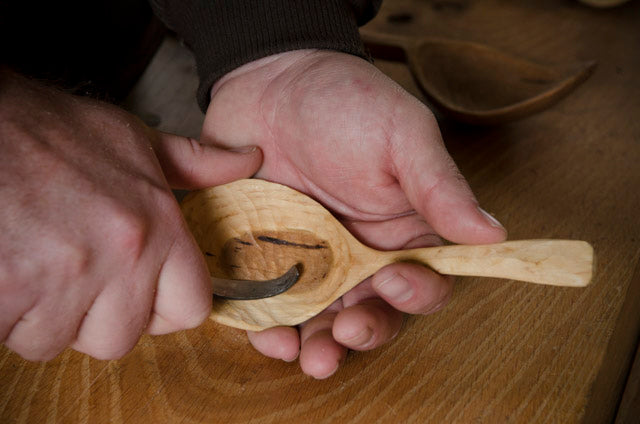 Students will start out learning about green woodworking tools, and will also take a walk in the woods to learn how to spot ideal wood for carving wooden spoons. The class will cover blank prep, axe, and knife use/safety, and how to design spoons with the user in mind. Students will leave with a specialized knowledge of how work the raw materials to a roughed state, and then be guided on how to "finish" carve the spoons and apply a suitable finish.
Mike Cundall builds furniture, and carves his lovely wooden bowls & spoons out of his home workshop in North Carolina. He is also a professor of philosophy at the University of North Carolina A&T. He also teaches bowl and spoon carving at the John C. Campbell Folk School. He loves hanging out with his wife and three sons, and practicing the Japanese martial art of Aikido.
World-renowned Bowl & Spoon Carving Guru, David Fisher said about Mike: "Mike has carved with me on more than one occasion. He's a wonderful guy and an accomplished carver. You're sure to have a great time with him and learn a lot."
Below you can watch a video that we filmed of Mike in the Wood & Shop Traditional Woodworking School, talking about tools for green woodworking, specifically bowl & spoon carving:
The material fee for the class should be about $25, and is payable to the instructor before or on the day of the class. Due to the volatility of prices, this is subject to change, and Mike will let you know before the class. Students are encouraged to purchase their own spoon carving tools before this class, but a few extra sets of tools will be available for those who are unable to bring their own. Below are recommended tools:
• Hook knife
• Slöjd Carving knife
• Carving axe/hatchet
We will be selling high quality hand forged Slöjd Knife carving knives and forged spoon carving axes prior to class. Email us here if you want to learn more about our upcoming line of hand tools.
How to Get Here & Where to Stay:
The address of the school is 5700 Buffalo River Rd. Earlysville, Virginia 22936 (Google Maps here). The school is convenient to quite a few hotels, stores, and restaurants, and is only 8 minutes from the Charlottesville airport. Many more details are listed on the school's main page here.
Class Policies, Liability Waiver, & Cancellations:
No students under 18 years of age are allowed. A PDF document with the full class policies and a liability waiver will be sent in the order confirmation email. All students are required to sign and return this document prior to attending the class. Anyone can cancel a class up to 2 weeks prior to the class for a full refund (minus a $25 fee that covers credit card processing fees and administrative work). Cancellations under two weeks before a class begins will be given a refund (less $25) if we can find someone else to fill the slot. If we have to cancel a class for an unforeseen emergency, inclement weather, or low number of registrations, a full refund will be given to students.
After you've registered for a class, you are eligible for a discount from Lee Valley (Veritas) and Taylor Toolworks. Lee Valley offers a 15% discount, and a discount form PDF will be available for download in your Wood and Shop dashboard after your purchase. For a 10% discount from Taylor Toolworks fill out this form and upload a photo or screenshot of your class order email (under the "Student ID" section). The discounts may not be available after the end of the class, so try to place your orders before then.
Photos from Past Classes:
Additional information
| | |
| --- | --- |
| Select a Date | Mon-Tue Jul 25-26, 2022 |