You already have this item in your cart!
Class: Carving Wooden Fans & Shells with David Ray Pine (2 Days)
CLASS POSTPONED DUE TO COVID-19
CLASS LENGTH: 2 Days
CLASS DESCRIPTION: Spend two days with David Ray Pine learning to carve a classical fan and scallop shell, as well as learning to sharpen your carving tools. This class is open to students of all carving ability (or no carving ability). See the full class description below.
WAIT LIST: If the class becomes sold out, click here to get added to the wait list. People may cancel, we may add more slots, or we may decide to add another class date.
PAYMENT: If you would like to pay for a class using a different method than online with a credit card, email us here to arrange to pay by check or cash. We don't accept credit cards over the phone.
Description
Over two days students will learn the basics of sharpening carving gouges and chisels, then use the tools listed to lay out and carve a fan suitable as decoration for a drawer front or mantelpiece (intaglio carving). The second day will be spent in learning the basics of preparing, laying out and carving a relief-carved scallop shell used as applied ornament for a table or chair apron.
This is an example of what the intaglio-carved fan will look like: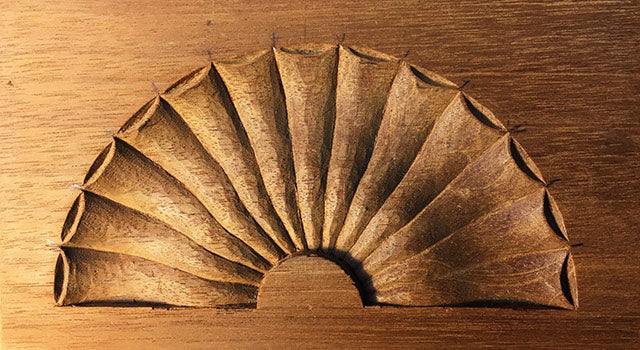 This is an example of what the relief-carved scallop shell will look like: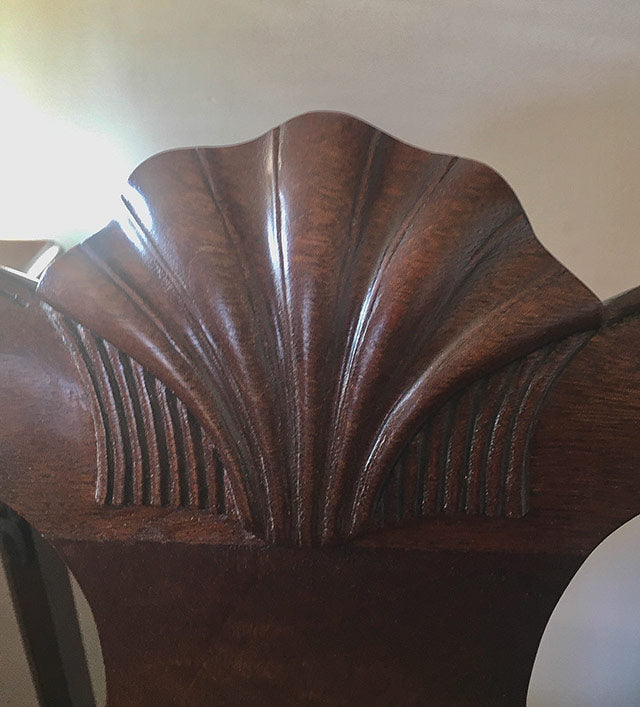 About the Instructor:
David Ray Pine is a full time furniture maker who creates high-end custom-made antique reproduction furniture out of his workshop in Mt. Crawford, Virginia (see the tour here). He also does restoration and conservation work on period antique furniture. His work has been featured in many different publications, including Colonial Homes, Rural Living, The Washington Post, Money Magazine, and Fine Woodworking Magazine (Issues#59, 64,67, 77, 80).  His furniture lives in many locations, from private patron's homes to the Virginia Governor's mansion.
Materials Fee:
The materials fee is $25, and is payable to the instructor before or on the day of the class. Required tools are listed below. Note that gouge sizes are slightly flexible, so we've included a range of sizes for each required gouge. Here are your two options:
OPTION #1:
OPTION #2:
You may own gouges that fit within the listed ranges, or you can buy all the below sizes (here is a good source for fine Pfeil gouges):

(1) Carving gouge with a sweep size between 4 – 6 with a width between 12mm – 18mm
(2) Carving gouge with a sweep size between 8 – 9 with a width between 13mm – 15mm
(3) V tool with a sweep size between 12 – 13 with a width between 6mm – 8mm
(4) Skew carving chisel with a sweep size of 1 with a width between 8mm – 16mm
(5) Not required, but very useful: Fishtail carving gouge with a sweep size between 3F – 5F with a width between 8mm – 12mm
(6) Not required, but very useful: Carving gouge with a sweep size between 5 – 6 with a width between 5mm – 10mm
(7) Wood carving mallet (here is a good, affordable mallet)
How to Get Here & Where to Stay:
The address of the school is 5700 Buffalo River Rd. Earlysville, Virginia 22936 (Google Maps here). The school is convenient to quite a few hotels, stores, and restaurants, and is only 8 minutes from the Charlottesville airport. Many more details are listed on the school's main page here.
Class Policies, Liability Waiver, & Cancellations:
A PDF document with the full class policies and a liability waiver will be sent in the order confirmation email. All students are required to sign and return this document prior to attending the class. Anyone can cancel a class up to 2 weeks prior to the class for a full refund (minus a $25 fee that covers credit card processing fees and administrative work). Cancellations under two weeks before a class begins will be given a refund (less $25) if we can find someone else to fill the slot. If we have to cancel a class for an unforeseen emergency, inclement weather, or low number of registrations, a full refund will be given to students.
Student Tool Discounts from Lee Valley & Lie-Nielsen:
After you've registered for a class, you are eligible for a discount from Lee Valley (Veritas) and Lie-Nielsen Toolworks. Lee Valley offers a 15% discount, and a discount form PDF will be available for download in your Wood and Shop dashboard after your purchase. For a 10% discount from Lie-Nielsen Toolworks, you need to place a phone order and tell them that you are a registered student at the Wood & Shop Traditional Woodworking School. The discounts aren't available after the end of the class.
Additional information
| | |
| --- | --- |
| Select a Date | Fri-Sat Jul 31-Aug 1, 2020 |