You already have this item in your cart!
DVD: "Building the Hancock Shaker Candle Stand with Will Myers" (2-Discs)
Step-by-Step Instructions to Help You Build This Historic Shaker Table!
Free Shipping to USA + International Shipping Available
*Note: This DVD will ship August 22nd. Can't wait for shipping? Buy the Digital Streaming / Download Version Here >>>
Many woodworkers have tried to build a true reproduction of this famous Hancock Shaker Candle Stand. Will Myers finally measured the original table and refined a simple lesson to help woodworkers of most levels build this beautiful piece of furniture. Not only does Will teach how to build the table, but he also teaches how to use historic hand tools along the way. Filmed on location at the Hancock Shaker Village in Pittsfield, Massachusetts and in Joshua Farnsworth's Wood And Shop Traditional Woodworking School in Earlysville, Virginia, this video helps woodworkers of all skill levels learn:
The history of the Shakers and their quality furniture
How to use spokeshaves, hand saws, hand planes, chisels, and many more hand tools
How to select & prepare appropriate wood for table making
How to use a lathe and turning tools to turn spindles
How to make a sliding dovetail joint & sliding dovetail marker
How to elecgantly shape the table legs with hand saws & spokeshaves
How to make a forged-style metal spider for the spindle
How to scrape, sand & finish the table
With 4+ hours (244 minutes) of instruction, you'll be able to create a lovely piece of Shaker furniture and learn many valuable traditional skills along the way. You can also take this 3 day class in person with Will Myers here!
Description
FEATURES
Shaker Candle Stand 2-Disc DVD Set (or you can purchase the digital version here, which is great for international customers)
Ships to USA (free), Canada, UK, Europe, Australia, & New Zealand (make sure your DVD player plays American discs).
Step-by-step detailed instructions
Geared toward beginner hand tool woodworkers
4 Hours of detailed instruction
Filmed at Joshua Farnsworth's Wood and Shop Traditional Woodworking School. You can take this class from Will at the school!
Click here for all the free resources and list of tools that Will mentions in the DVD
ABOUT THE HOST:
Will Myers is an expert furniture maker from North Carolina, who specializes in building reproduction furniture with historical hand tools. Will is featured in the best-selling DVD "Building the Portable Moravian Workbench with Will Myers" and on the PBS TV show "The Woodwright's Shop". He also teaches woodworking classes at Roy Underhill's "Woodwright's School" and the "Wood And Shop Traditional Woodworking School".
RESOURCES & PHOTOGRAPHS FROM THE HANCOCK SHAKER CANDLE STAND VIDEO SHOOT: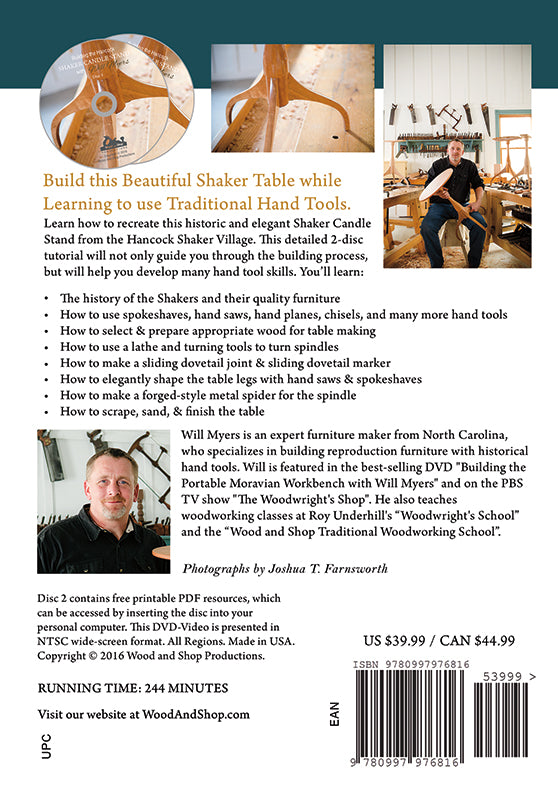 Here is my recent behind-the-scenes article about the making of this video, and below are a few photographs from the film shoot at the Wood and Shop Traditional Woodworking School: