You already have this item in your cart!
DIGITAL: "Building the Historic Howarth Bow Saw with Bill Anderson" in HD (Stream + Download)
Build this Beautiful Howarth Bow Saw while Learning to use Traditional Hand Tools.
Learn how to recreate this historic and elegant English bow saw, which is perfect for many uses in any woodworker's workshop. This detailed HD video will not only guide you through the building process, but will help you develop many hand tool skills. You'll learn:
How to select & prepare appropriate wood for making traditional hand tools
How to use hand saws, hand planes, chisels, rasps, and many more hand tools
How to cut several different variations of the mortise & tenon joint
How to artistically shape wood using saws, chisels, rasps, gouges, & spokeshaves
How to taper bow saw pin holes using reamers to ensure a tight fitting handles
How to sand & scrape for a beautiful finish
The pros & cons of different types of finishing products for hand tools
How to assemble, properly tension, and use a traditional bow saw
Free Autographed Photo of Bill to the first 100 Buyers on WoodAndShop.com!
With 3.6 hours (217 minutes) of instruction, you'll be able to create this shapely English bow saw, and learn many valuable traditional hand tool skills along the way. SEE PREVIEW VIDEO BELOW…
Description
FEATURES:
High Definition MP4 Digital Video Download (or you can purchase the physical DVD here)
Should be playable on all TV's, computers, & digital devices (although, use a computer to download as customers have trouble downloading & unzipping with mobile devices).
Step-by-step detailed instructions
Geared toward beginner hand tool woodworkers
3.6 Hours of detailed instruction
Filmed at Bill Anderson's Workshop in North Carolina
Click here for all the free resources and list of tools that Bill mentions in the DVD
Bill Anderson sells Howarth Bow Saw pins, handles, blades, string, & printed templates here.
STREAMING / DOWNLOAD INSTRUCTIONS:
After completing your purchase you'll be taken to an order confirmation page (see what it looks like here). On that page you'll see the link to stream or download the video. You'll also find links to any plans or cut lists. You can also access these links from your account, which you will create during checkout.
RESOURCES & PHOTOGRAPHS FROM THE VIDEO SHOOT: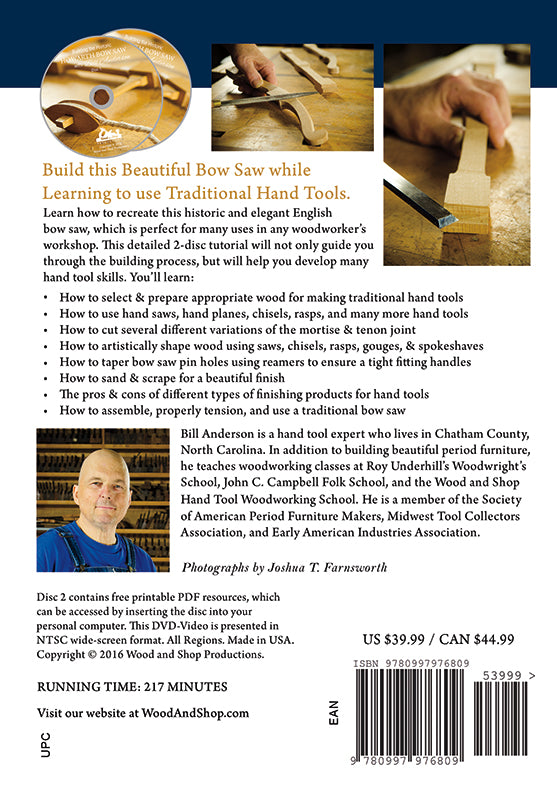 Here are a few photographs from the film shoot at Bill Anderson's Workshop: