You already have this item in your cart!
Class: Introduction to Historic Wood Finishing with Don Williams (3 Days)
CLASS LENGTH: 3 Days
CLASS DESCRIPTION: Former Smithsonian Furniture Conservator, Don Williams, will teach the fundamentals of historical wood finishing. Students will learn and practice surface preparation, finish material selection, how to use wood finishing tools, finish preparation, and wood finish application techniques. See more details below.
WAIT LIST: If the class becomes sold out, click here to get added to the wait list. People may cancel, we may add more slots, or we may decide to add another class date.
PAYMENT: If you would like to pay for a class using a different method than online with a credit card, email us here to arrange to pay by check or cash. We don't accept credit cards over the phone.
Description
Spend three days learning the fundamentals of woodfinishing from a historic mindset with Don Williams, using the tools, materials, and techniques of our predecessors.
Students will practice a range of exercises to familiarize their minds, eyes, and hands to impart greater beauty to their work pieces using traditional approaches.
The curriculum revolves around students making a series of sample boards they can take home after the class.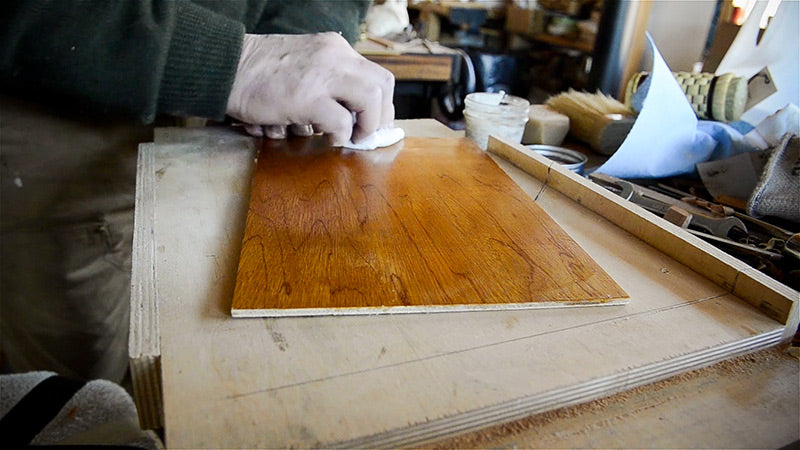 Topics discussed, demonstrated and practiced include surface preparation, finish material selection (given the abbreviated schedule we are limited to wax and spirit varnishes including brushing and pad polishing, a/k/a "French" polishing), finishing tools (What's the big fuss about "good rags"? What's a good brush? What's a polissoir?) finish preparation and application techniques for the entire process.
We will begin with ordinary raw wood and end with a lustrous surface that is a treat for the senses. Even if finishing was a source of trepidation previously, the student will depart with confidence for their next project. All supplies will be provided. See materials fee below.
Don Williams is the former Senior Furniture Conservator at Smithsonian Museum Conservation Institute. In addition to being an expert in historical furniture finishing and preservation, Don is an expert in marquetry, parquetry, and veneering. He is an excellent furniture maker, and is the "mastermind" behind the translations of the French Roubo books. He is the author of Virtuoso, the definitive book about the famed H.O. Studley tool cabinet and workbench. He now works from his off-grid timber frame barn workshop in a remote part of Highland County, Virginia. You can see a tour of Don's workshop here or watch the videos below:
The class material fee for Don's class is $75. Sorry, the cost of everything is really high right now! It is payable to the instructor before or on the day of the class.
How to Get Here & Where to Stay:
The address of the school is 5700 Buffalo River Rd. Earlysville, Virginia 22936 (Google Maps here). The school is convenient to quite a few hotels, stores, and restaurants, and is only 8 minutes from the Charlottesville airport. Many more details are listed on the school's main page here.
Class Policies, Liability Waiver, & Cancellations:
No students under 18 years of age are allowed. A PDF document with the full class policies and a liability waiver will be sent in the order confirmation email. All students are required to sign and return this document prior to attending the class. Anyone can cancel a class up to 2 weeks prior to the class for a full refund (minus a $25 fee that covers credit card processing fees and administrative work). Cancellations under two weeks before a class begins will be given a refund (less $25) if we can find someone else to fill the slot. If we have to cancel a class for an unforeseen emergency, inclement weather, or low number of registrations, a full refund will be given to students.
After you've registered for a class, you are eligible for a discount from Lee Valley (Veritas) and Taylor Toolworks. Lee Valley offers a 15% discount, and a discount form PDF will be available for download in your Wood and Shop dashboard after your purchase. For a 10% discount from Taylor Toolworks fill out this form and upload a photo or screenshot of your class order email (under the "Student ID" section). The discounts may not be available after the end of the class, so try to place your orders before then.
Additional information
| | |
| --- | --- |
| Select a Date | Mon-Wed Jun 6-8, 2022, Thur-Sat Jul 21-23, 2022, Thur-Sat Jul 14-16, 2022 |