You already have this item in your cart!
Class: Hand Plane Skills with Bill Anderson (1 Day)
CLASS POSTPONED DUE TO COVID-19
CLASS LENGTH: 1 Day
CLASS DESCRIPTION: Join handplane expert, Bill Anderson, in this one-day, hands on clinic on learning to use, tune, sharpen, & refurbish wooden & metal bench planes. See below for class details. This class is held back-to-back with another complimentary introductory handplane class for those wishing to attend them both: "Hand Cut Moldings with Bill Anderson"
WAIT LIST: If the class becomes sold out, click here to get added to the wait list. People may cancel, we may add more slots, or we may decide to add another class date.
PAYMENT: If you would like to pay for a class using a different method than online with a credit card, email us here to arrange to pay by check or cash. We don't accept credit cards over the phone.
Description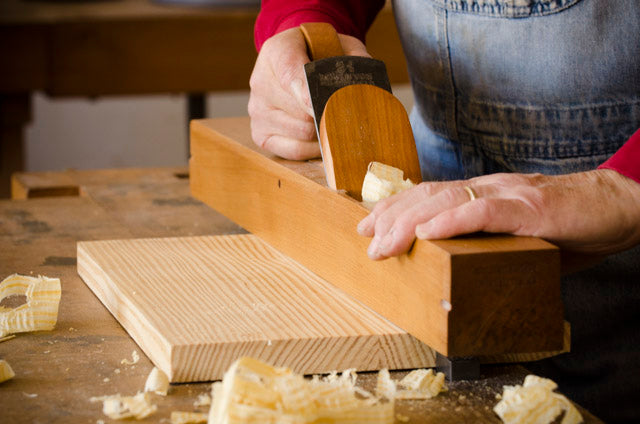 Students will spend an amazing day bringing their bench plane skills up to snuff! Bill will give hands-on experience to students with different wooden & metal hand planes, including smoothing planes, fore planes (jack planes), try planes (jointer planes), scrub planes, block planes, etc. Bill will cover demos on restoring, sharpening, and tuning bench planes. Bill will also cover how to plane difficult figured grain, end grain, and much more!
About the Instructor: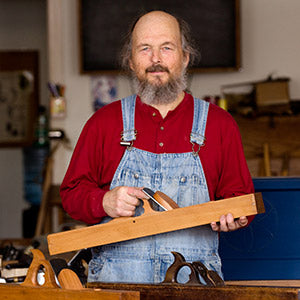 Bill Anderson is a hand tool expert who lives in Chatham County, North Carolina. In addition to building beautiful period furniture, he teaches woodworking classes at Roy Underhill's Woodwright's School and the John C. Campbell Folk School. He is a member of the Society of American Period Furniture Makers, Midwest Tool Collectors Association, and Early American Industries Association.
Below you can watch the video of our tour of Bill's workshop, and read the article & see photos here.
Materials Fee:
The class material fee is $15, and is payable to the instructor on the first day of class.
How to Get Here & Where to Stay:
The address of the school is 5700 Buffalo River Rd. Earlysville, Virginia 22936 (Google Maps here). The school is convenient to quite a few hotels, stores, and restaurants, and is only 8 minutes from the Charlottesville airport. Many more details are listed on the school's main page here.
Class Policies, Liability Waiver, & Cancellations:
A PDF document with the full class policies and a liability waiver will be sent in the order confirmation email. All students are required to sign and return this document prior to attending the class. Anyone can cancel a class up to 2 weeks prior to the class for a full refund (minus a $25 fee that covers credit card processing fees and administrative work). Cancellations under two weeks before a class begins will be given a refund (less $25) if we can find someone else to fill the slot. If we have to cancel a class for an unforeseen emergency, inclement weather, or low number of registrations, a full refund will be given to students.
Student Tool Discounts from Lee Valley & Lie-Nielsen:
After you've registered for a class, you are eligible for a discount from Lee Valley (Veritas) and Lie-Nielsen Toolworks. Lee Valley offers a 15% discount, and a discount form PDF will be available for download in your Wood and Shop dashboard after your purchase. For a 10% discount from Lie-Nielsen Toolworks, you need to place a phone order and tell them that you are a registered student at the Wood & Shop Traditional Woodworking School. The discounts aren't available after the end of the class.
Photos from Past Classes:
Additional information
| | |
| --- | --- |
| Select a Date | Sat Apr 11, 2020 |