You already have this item in your cart!
Beeswax Wood Finish for Furniture
Our all-natural, high quality beeswax wood finish is based off an 18th Century colonial recipe, that uses a simple yet perfect blend of high-grade natural Beeswax, Boiled Linseed Oil (we boil it ourselves, with no chemical dryers), and natural Pure Gum Spirits of Turpentine. This beeswax wood finish offers a perfect balance between wood penetration and buffing sheen. It's a perfect beeswax wood finish for surfaces that don't require a high level of moisture protection. This beeswax for furniture can also be used on top of most existing wood finishes as a high-quality beeswax furniture polish (spot test antique pieces in an inconspicuous area before use). See directions below. 
*Only ships to U.S.A.
*Note: This product will ship August 22nd.
Description
The Best Beeswax for Furniture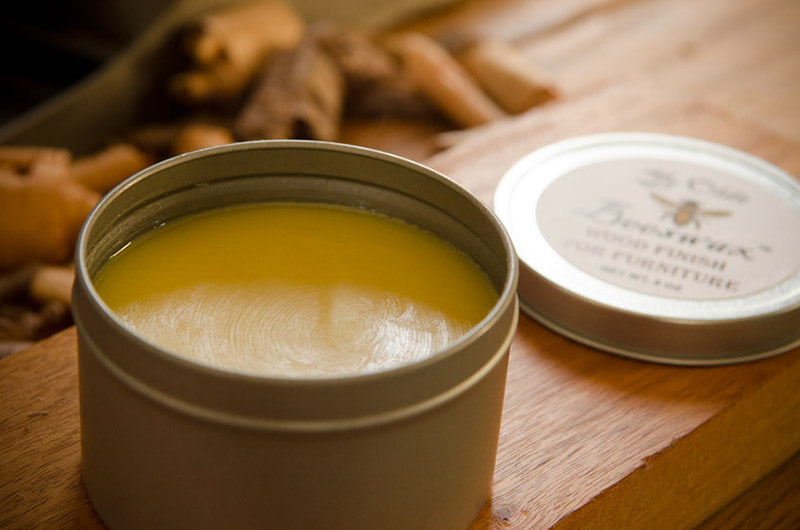 We spent years experimenting with, and modifying this historical wood seasoning beeswax wood finish recipe until we found the perfect ratio of natural ingredients that balances penetrating depth, protection, and buffing sheen for furniture, workbenches, and woodworking hand tools. We believe that our wood finish is the best beeswax for furniture.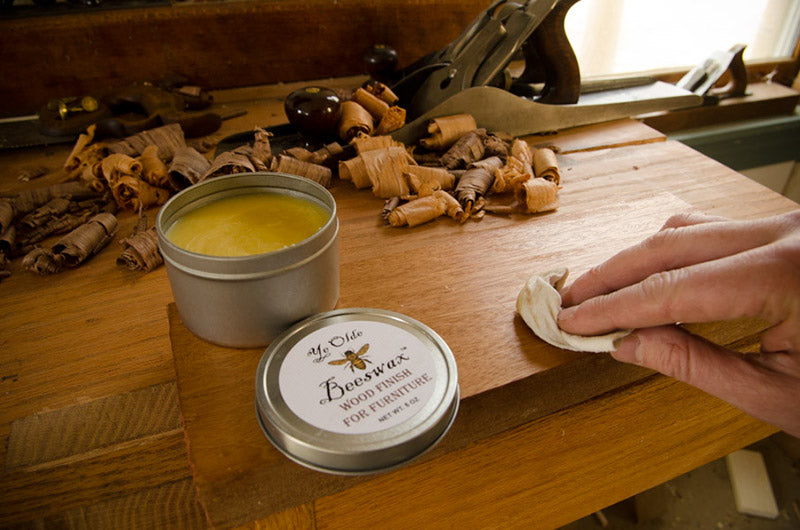 Here are what the different ingredients do: (1) The Boiled Linseed Oil enables this beeswax wood finish to give depth to the wood grain. We boil natural, raw linseed oil ourselves, rather than using BLO with chemical dryers. The boiled linseed oil dries much faster than raw linseed oil. (2) The natural, wood seasoning Beeswax offers protection and sheen. (3) The 100% Pure Gum Spirits of Turpentine is distilled from pine tree resins, and acts as a natural thinner to blend the beeswax and boiled linseed oil.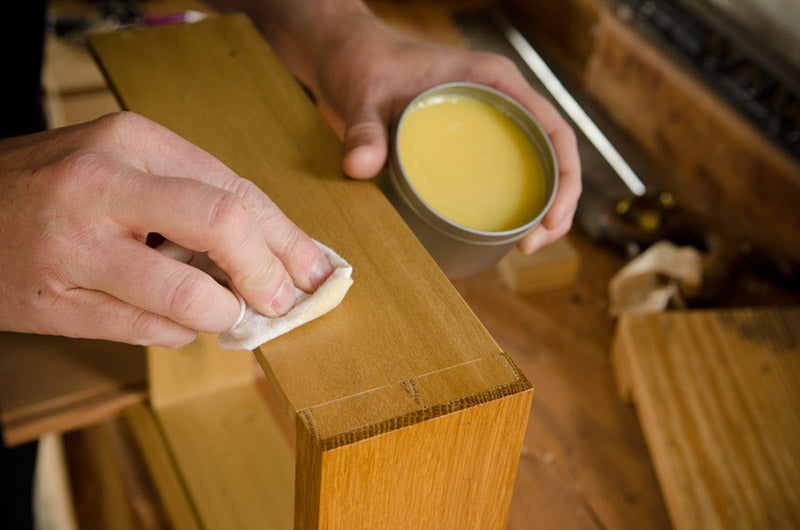 In addition to offering a lovely and touchable finish to your furniture, this beeswax wood finish will make your workshop smell wonderful; like a mix of beeswax, pine trees, and artists linseed. And the natural ingredients will give you comfort in maintaining your health, as opposed to other wood finishes that use chemical dryers and other harmful chemicals.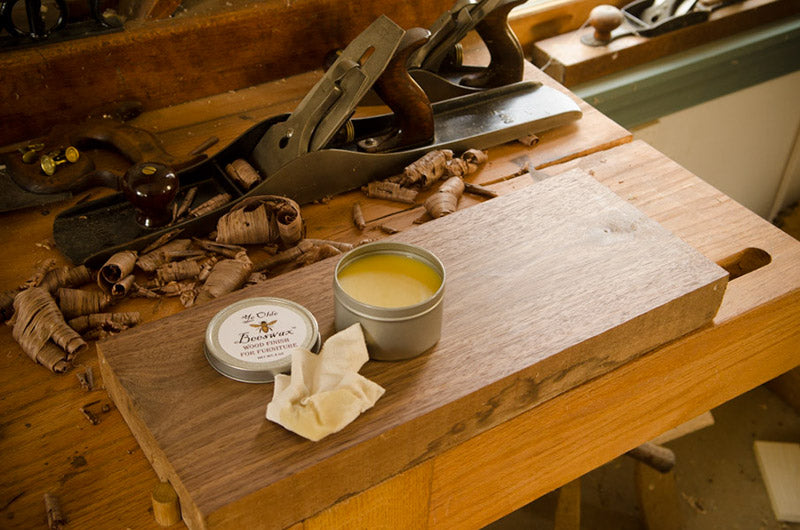 Our wood seasoning beeswax polish is formulated for just the right thickness and hardness, so that it will not only give a great sheen, but it will also last for a long time. But if it feels too hard because of cold weather, it can be left near a sunny window to soften the wax slightly. But do not soften the beeswax wood finish too much, or melt it prior to application.
We recommend that you use old T-shirt scraps to apply our beeswax wood finish. This is not only a perfectly soft application cloth, but it will also save you money over buying expensive cotton pads. Full directions are listed below.
Directions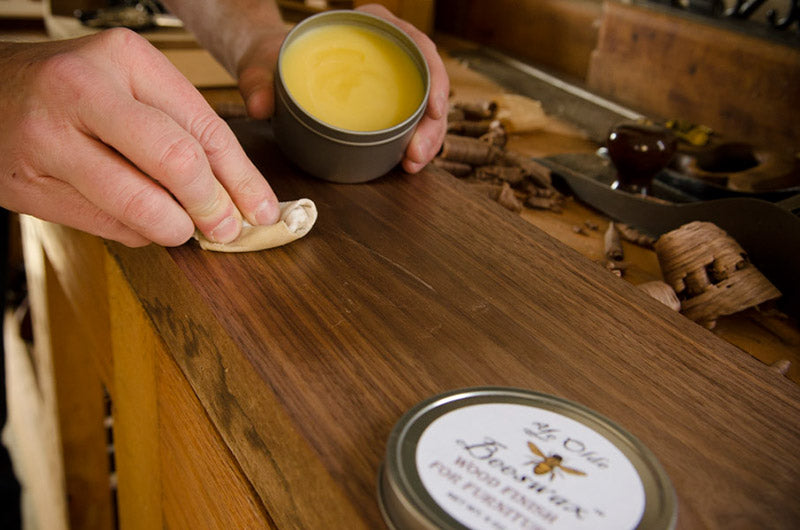 Make sure that the wood surface has been adequately hand planed or sanded to a fine grit, and wiped clean. Use a soft cotton cloth or old T-shirt to apply a small amount of Ye Olde Beeswax Wood Finish to the bare wood.  Let the wax finish sit for a few minutes (no more than 10 or 15 minutes), and then buff the wax to a sheen with a new cotton cloth or T-shirt scrap. On some open-grain woods (e.g. oak) you may wish to initially apply a second coat since the wood may absorb the beeswax finish more than with tight-grain woods (e.g. exotic woods).
Like with any oil-based wood finish, remember to properly store or dispose of your rags after use, to prevent the danger of spontaneous combustion associated with oily rags (follow these safety tips). Reapply more beeswax finish when the sheen dulls in appearance and needs a new polished look.
Need a Food Safe Alternative to Our Beeswax Wood Finish?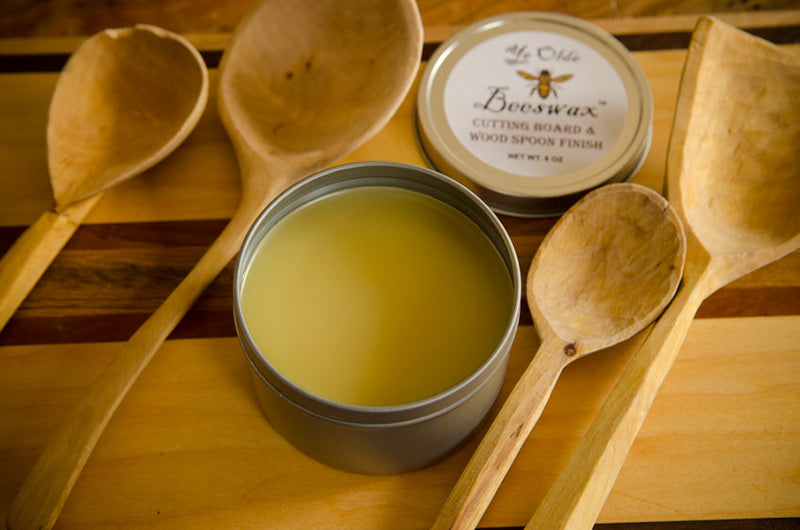 If you want a food safe alternative to our beeswax wood finish, then try our Ye Olde Beeswax Cutting Board & Wood Spoon Finish. It will moisturize and protect your wood creations that make contact with your food, such as wooden bowls, wooden spoons, wooden knife handles, and wooden cutting boards.