You already have this item in your cart!
Class: Make Workbench Fixtures with Bill Anderson (2 Days)
CLASS LENGTH: 2 Days
CLASS DESCRIPTION: Spend a couple days with hand tool expert, Bill Anderson, making a bundle of essential workbench fixtures, including a joiner's mallet, two wooden try squares, a straight edge, winding sticks, a shooting board, a Bird's Mouth, and a bench hook/miter box. See below for class details.
WAIT LIST: If the class becomes sold out, click here to get added to the wait list. People may cancel, we may add more slots, or we may decide to add another class date.
PAYMENT: If you would like to pay for a class using a different method than online with a credit card, email us here to arrange to pay by check or cash. We don't accept credit cards over the phone.
SEE BILL'S COVID-19 REQUIREMENTS BELOW BEFORE REGISTERING
Description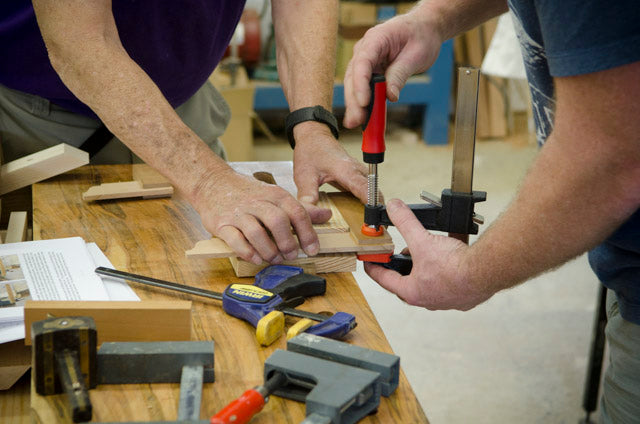 Spend a couple days with hand tool expert, Bill Anderson, making a bundle of essential workbench fixtures. The fixtures include:
Wooden joiner's mallet
Two try squares: the squares are of two sizes, one 8″ for general layout, and one 2″ for joinery layout. The blades are made of QS hard maple, the handles of Black Walnut or Cherry.
Winding sticks: The 20″ winding sticks are made of QS cherry, with ebony details.
A Donkey's Ear: to plane mitered corners on molding. This is adjustable both at the fence and at the angle of the platform so that the item can be tweaked. The plane runs in a track. The details include a centerpoint on each stick to accurately balance the sticks on narrow stock.
Straight edge: The straight edge is made of QS cherry, and is 36″ long.
Miter bench hook: The last item is a bench hook on one face and a miter box on the other face, suitable for mitering small moldings for cabinet work. The actual woods used in the workshop will vary according to the availability of satisfactory lumber at the time of the workshop.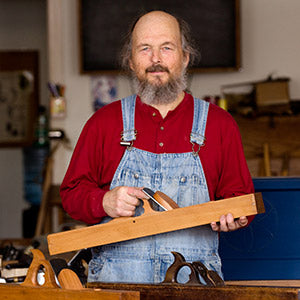 Bill Anderson is a hand tool expert who lives in Chatham County, North Carolina. In addition to building beautiful period furniture, he teaches woodworking classes at Roy Underhill's Woodwright's School and the John C. Campbell Folk School. He is a member of the Society of American Period Furniture Makers, Midwest Tool Collectors Association, and Early American Industries Association.  Below you can watch the video of our tour of Bill's workshop, and read the article & see photos here.
Materials fee will be in the range of $100-$150, and will depend on the local price of materials at the time of purchase. The fee may seem high, but top quality 12/4 quartersawn, tight-grained hardwood lumber is required for these tools to stand the test of time (usually mahogany or cherry). This wood is scarce and expensive. This fee must be paid to the instructor before or on the first day of class.
How to Get Here & Where to Stay:
The address of the school is 5700 Buffalo River Rd. Earlysville, Virginia 22936 (Google Maps here). The school is convenient to quite a few hotels, stores, and restaurants, and is only 8 minutes from the Charlottesville airport. Many more details are listed on the school's main page here.
Class Policies, Liability Waiver, & Cancellations:
No students under 18 years of age are allowed. A PDF document with the full class policies and a liability waiver will be sent in the order confirmation email. All students are required to sign and return this document prior to attending the class. Anyone can cancel a class up to 2 weeks prior to the class for a full refund (minus a $25 fee that covers credit card processing fees and administrative work). Cancellations under two weeks before a class begins will be given a refund (less $25) if we can find someone else to fill the slot. If we have to cancel a class for an unforeseen emergency, inclement weather, or low number of registrations, a full refund will be given to students.
BILL'S COVID-19 REQUIREMENTS: Because Bill has a compromised immune system, he has specifically requested that all students in his classes be fully vaccinated for Covid-19. He will not require masks, but he will require that proof of vaccination be emailed to him at least one week before the class starts.
After you've registered for a class, you are eligible for a discount from Lee Valley (Veritas) and Taylor Toolworks. Lee Valley offers a 15% discount, and a discount form PDF will be available for download in your Wood and Shop dashboard after your purchase. For a 10% discount from Taylor Toolworks fill out this form and upload a photo or screenshot of your class order email (under the "Student ID" section). The discounts may not be available after the end of the class, so try to place your orders before then.
Photos from Past Classes:
Additional information
| | |
| --- | --- |
| Select a Date | Mon-Tue Nov 14-15, 2022 |